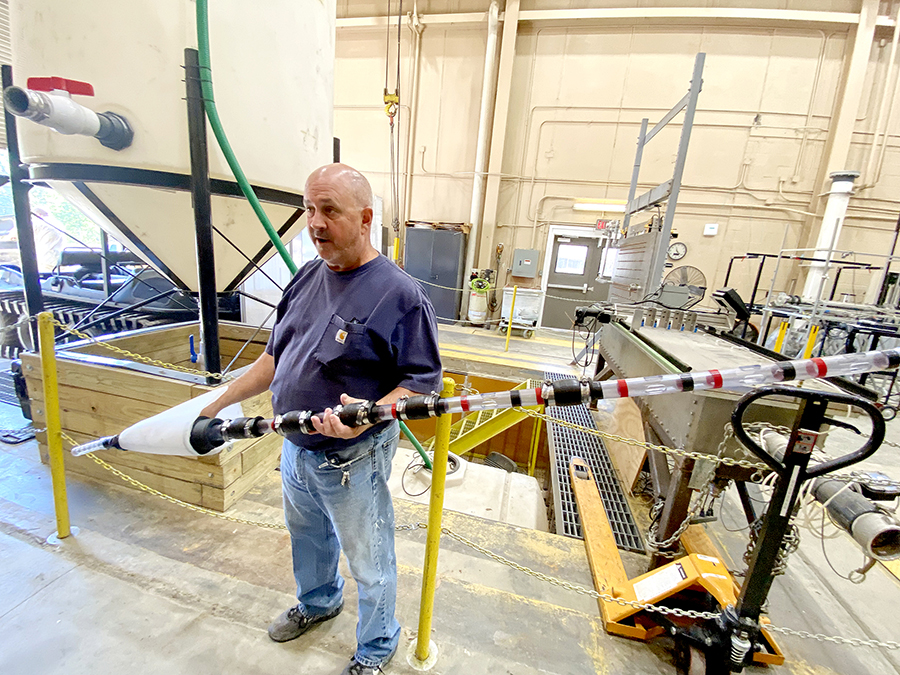 When river levels rise, so does the threat of sand boils, which occur when water bubbles out of the ground near the base of a levee, surrounded by a mound of displaced soil. Caused by increased pressure, sand boils are a visible sign of erosion within a levee. And unless they are treated immediately, these sand boils will grow and more sediment will be displaced, escalating the risk of a catastrophic breach. However, the current method for fighting sand boils is difficult, expensive and dangerous, requiring hundreds of sandbags.
To simplify this cumbersome process, ERDC researchers have developed a special lightweight filter that can be inserted into a sand boil to alleviate the pressure and stop the erosion. A single person could install it in about 15 minutes, allowing personnel to alleviate multiple sand boils more safely and efficiently – providing greater protection to our nation's critical levee systems and the lives and livelihoods they defend.
We discuss these Sand Boil Filter kits with Samantha Lucker, a research geologist with ERDC's Geotechnical and Structures Laboratory.
We talk about why sand boils must be promptly addressed (5:04), and how ERDC's new filters will improve on the current process (7:56) and enable better levee management (9:04). We also discuss how this effort started (17:00), how it builds on ERDC's deep expertise in studying the Mississippi River (22:54), and how researchers are improving the filter's design (21:00) to increase its usage (25:23).
For more information on these Sand Boil Filter kits, contact Lucker at Samantha.L.Lucker (at) usace.army.mil.
For more information on the Power of ERDC podcast, visit https://www.PowerofERDCPodcast.org.
Podcast: Play in new window | Download